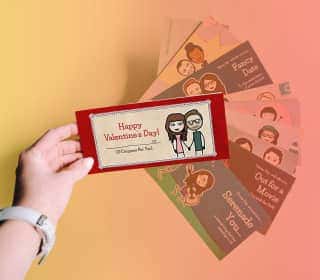 Share an Experience
Create fun & romantic love coupons. Personalize each page with ease.
SAVE 10% - use promo code: SAVE10
Personalized coupons in minutes
3 super simple steps:
01. Personalize your characters
02. Select your cover
03. Pick your pages & customize them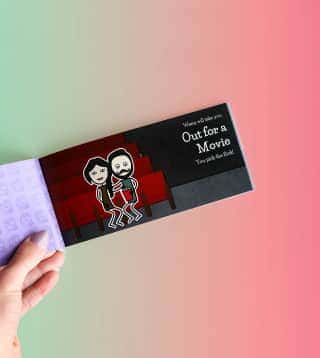 Spend more time together
Fully customizable characters
Hundreds of coupons to choose from
Editable to perfectly fit your relationship
A gift made with love
20 high gloss, full color pages
7.25 in. x 3.25 in. finished print size
Perforated pages for easy removal
20 Personalized Coupons
20 Experiences to Share
01 Reason: Love
SAVE 10% - use promo code: SAVE10
"I actuallygive this to my boyfriend on Valentine....his face was priceless seeing him go through this coupon book"
"A Valentine's Day to remember! This was a great idea and well received. Thank You!"
"Delivery was prompt, just in time for Valentines day. Thank you so much. The BF loved them. He loved the fact that they were personalized lil us even more. "
"I gave it to my partner for Valentine's Day, she absolutely loved it! Said it was the most creative gift she's ever received. So happy I did it!"
"This was the greatest valentines gift ever. So cute having the people match us and my boyfriend loved it! "
"I made these for my boyfriend for Valentines dat. He loved them! Said it was the most thoughtful gift he had ever gotten! "
"My boyfriend absolutely loved it! It was very well made and there were tons of options to choose from! This made for a perfect Valentine's day gift, thank you so much!"
"This was so easy and inexpensive! I can't wait to give them to my boyfriend on Valentine's Day!!!"
"My husband enjoyed them almost as much as I enjoyed creating them. They work great for helping Valentine's Day last longer then one day. Thanks!!"
"THE PROCESS WAS EASY AND QUICK. I AM WAITING UNTIL VALENTINES DAY TO GIVE THEM TO MY SPECIAL SOMEONE!"
"So easy to do and so many personal options!!! my husband is going to love it and such a great idea for valentines and anytime after!!"
"These were so cute! Came out just like it looked when I personalized it. I bought these for my husband for our first Valentines Day as a married couple. They are great! Definitely recommend!!"
"I received the coupon book and it turned out so wonderful. Every page is very well done and the quality of the paper is great. I am waiting for February 14, Valentine's Day, to give it to my soulmate. I am sure he will love it just as he did the I Love You Because Book. Keep these wonderful editions coming. LoveCoups is fantastic, Thank you"
"This was a gift for Valentine's Day for my husband. He absolutely loved it! Thank you very much 😊 "
"Best Valentine gift ever"
"I customized 20 coupons as a Valentines Day gift for my boyfriend. They turned out FANTASTIC! The quality exceeded my expectations! "
"Was unable to get a flight to see my girlfriend on valentine's day, so I had to make it up somehow. I stumbled across lovecoups and had a fun time making a personal coupon book. International shipping was excellent and made it on time for valentines. I would certainly recommend the coupon book as you can reflect on your relationship and display it in the form of funny cartoon characters along with witty captions"
"The coupon book was a gift to my fiancé on Valentines Day. I had so much fun creating the book, the make the characters look just like us!!! We laughed when he opened it because it was so cute and original. I picked the coupons, knowing that he would love each one!!! I also created a puzzle pic. I chose pics of when we went to Italy...it turned out great and we loved it!!! I couldn't have picked a better gift!!!! My shipment came so fast, I couldn't believe it!!! LoveCoups is AWESOME!!!! Thank you so much!!!!"
"Excellent present for Valentines Day"
"Lots of fun to personalize with many options to choose from. My boyfriend thought this was a really great, unique Valentines Day idea in lieu of the typical sappy gift. "
"My boyfriend absolutely LOVED the coupon book I created for him for Valentine's Day! He thought the cartoon version of us was spot on too!! We can't wait to redeem the coupons! Thank you!"
"I ordered the LoveCoups booklet for my husband as a Valentine's gift. I love how many different options there were to choose from for the coupons, & I like the quality of each one. It looks exactly how I made it online, & it's absolutely adorable! He loved it! One thing I'd love to see is to adjust the characters expressions & positions, giving it even more customization. I absolutely love this & would definitely purchase again!"
"Best Valentine's Day present I have ever given! I scored major brownie points with my guy"
"My husband loved these coupon book! It made for a very unique and personal valentines gift!"
"YES to this company! Long story short, the mailman delivered my package the day after a major snow storm and just dropped the envelope in a giant snow mound that completely soaked my adorable coupon book. This was a week before Valentine's Day. I contacted this company to see if they could help me out and they went above and beyond in their customer service! I am so impressed with not only their service but the finished product as well. LoveCoups, thank you, you have a customer for life!"