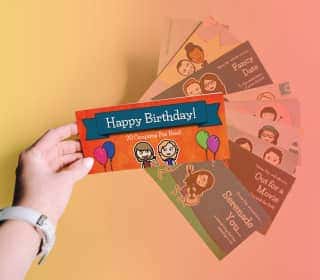 Share an Experience
Create fun & romantic love coupons. Personalize each page with ease.
SAVE 10% - use promo code: SAVE10
Personalized coupons in minutes
3 super simple steps:
01. Personalize your characters
02. Select your cover
03. Pick your pages & customize them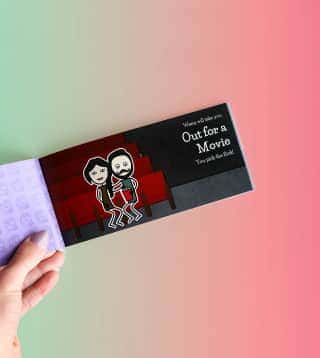 Spend more time together
Fully customizable characters
Hundreds of coupons to choose from
Editable to perfectly fit your relationship
A gift made with love
20 high gloss, full color pages
7.25 in. x 3.25 in. finished print size
Perforated pages for easy removal
20 Personalized Coupons
20 Experiences to Share
01 Reason: Love
SAVE 10% - use promo code: SAVE10
"This was the perfect gift!! He didn't want me to buy him anything for his birthday so when I gave him this booklet, he loved that I gave him so much without spending much at all. We've had a lot of fun using the coupons so far!"
"Made the perfect birthday gift!! "
"This was my first time celebrating my boyfriend's birthday as we have been together for less than a year so I wanted to do something that we would remember later on. He loved it! It was quite special and he's been enjoying using the coupons :) "
"It was better than expected. I got it for my boyfriends birthday and he loved it so much.he still talks about it weeks later. It's a good quality book with good quality pictures, and you can customize everything which makes it one of a kind. I'm gonna be getting lots more from here. "
"I made a coupon book for my fiancé's birthday, he LOVED it!! He really loved the fact that the characters look like us."
"I got LoveCoups as a birthday gift for my honey and he loved it! I really enjoyed the customization and variety of the coupons available so that it really was about our life together and not some generic run-of-the-mill coupon book that you'd see at a novelty shop."
"First all of my building experience was fun, having to create a character that looks like me and my Spouse. I've never done that before so it was something new for me that I enjoyed doing a lot because my gift was customized with creativity, fun, and love. When it arrived it looked just the way I imagine it lovely!! My spouse loved it and he was as amaized as I was and he kept asking how I did it and where, he really liked it and we started using the coupons the same day of his birthday when I gave it to him. Also the staff involved in the process of making sure they deliver a great experience for you is on point, one email away and they attend to the customer needs in a timely manner which I loved when I made a mistake with my book and asked for help, they went above and beyond to help me and ensure my book came out they way I wanted even thought the website tells you to make sure you check the coupons you are printing before you submitted because they don't check your coupons just print it. So I really appreciate all the fast help I got and thanks to that my gift was awesome and I'm definitely ordering some more in a near future! :)"
"Got a coupon book for my partner for his birthday, he loved it! Most amazing thing I've found on the Internet. Will be coming back for more 😅😀"
"It was a birthday gift and he absolutely loved it! will definitely use again"
"Myguy loved his birthday gift.."
"I had given the coupon booklet as part of a birthday gift for my husband. And while he hasn't received it yet as he's in the military and I had to post it to him, I had page through it and I LOVE it. It was so much fun to create too."
"I got this for my boyfriends birthday and he absolutely loved it! He thought it was the cutest thing ever!!! :))"
"Best birthday present I have ever got my girlfriend!"
"I made a coupon book for my boyfriend's birthday. He loved them! We both enjoyed a good laugh looking at our little characters doing all the activities. I can't wait for him to start cashing them in! The real fun is still to come!"
"I gave my boyfriend his lovecoups book yesterday for his birthday and he loved it! :)"
"I gave the coupon booklet to my husband for his birthday and he loved it. He has already redeemed a couple of them. Thanks for the experience. "
"Wonderful! These were a birthday present for my boyfriend, and he adored them!"
"I haven't given it to my boyfriend yet its his birthday soon and I've found it hard to keep a surprise i can't wait to show him he will love it! I was so happy with my order it was even better than i expected, and arrived so much faster than expected too!"
"This is such an amazing site. Perfect for long distance couples. My gift got there just in time for his birthday. Thanks LoveCoups, will definitely use you again! "
"My sister absolutely loved her gift. I am moving to Atlanta and I wanted to make her birthday special. She is already using the coupons. lol Awesome gift idea!"
"Loved the booklet! Got one for my boyfriends birthday and he loved how personalized it was. Definitely a great, fun gift! "
"My boyfriend absolutely loved them, I got him two other big gifts for his birthday but above all he loved the coupons the best! Such a good idea for a loved one! I wish I had some for myself. And when they weren't delivered properly you guys sent them through premium fed ex and got them to me ASAP before his birthday in which I really appreciated! Thank you so much! "
"My experience with lovecoups was great my husband loved his birthday gift and was completely surprised and happy to get it in the mail unexpectedly with his name on it. The adult section made this year even more interesting. Defiantly a great idea even just for fun. "
"This was for my boyfriend of nearly two years as a belated birthday present. He loved it! He exclaimed many times over how cute it was and how awesome it looked with the personalized figures. Now we just need time to start using the coupons!"
"I absolutely LOVE my LoveCoups booklet! The order arrived in a very timely manner, and they are of very high quality. I am so anxious to gift them to my boyfriend for his birthday. I think he's going to love them just as much as I do. Thanks again, LoveCoups!"