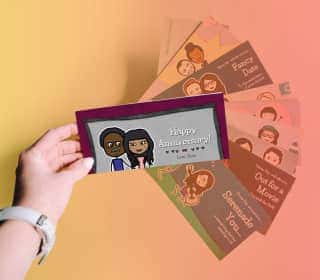 Share an Experience
Create fun & romantic love coupons. Personalize each page with ease.
Personalized coupons in minutes
3 super simple steps:
01. Personalize your characters
02. Select your cover
03. Pick your pages & customize them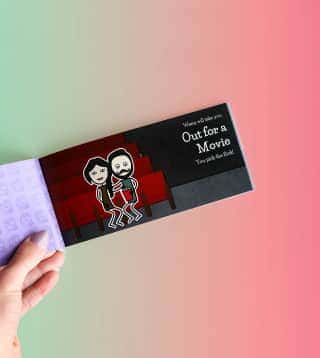 Spend more time together
Fully customizable characters
Hundreds of coupons to choose from
Editable to perfectly fit your relationship
A gift made with love
20 high gloss, full color pages
7.25 in. x 3.25 in. finished print size
Perforated pages for easy removal
20 Personalized Coupons
20 Experiences to Share
01 Reason: Love
"I LOVE the coupon book! I made this for my husband for our first wedding anniversary. He made use of a few of the coupons immediately. ;) I would definitely recommend this product. It's such a fun way to create a very special, memorable gift. "
"I made one for my boyfriend for our 6 year anniversary. He loved it and thought it was so unique and different! He's excited to use the coupons! "
"I loved these! They are so cute and colorful. It's so much fun to customize the book so the characters resemble my boyfriend and I. He will be happy to receive this for our anniversary. "
"My coupons turned out anazing! Making them was very easy and fun, but seeing his face when I gave them to him for anniversary was the best part. "
"I had so much fun building my LoveCoups book. There were so many good choices I had a hard time deciding which ones to pick. Also my boyfriend loved the book. It was his favorite Anniversary present from me."
"Love love love the coupon book. I bought it for an anniversary gift for my husband, and I cant wait to give it to him"
"I love them , but haven't given it to my husband yet because it is a gift for our 25th wedding anniversary ( Oct.6th) . Thank you very much!"
"I love how fast my order came! The coupon book arrived fast and the biding is super beautiful! I cant wait to give them to my partner for out anniversary!! "
"This was the absolute cutest anniversary gift. He loved it almost as much as I loved making it. I'm so happy and will certainly be getting more for other people!"
"LoveCoups make such a great gift; I made some for my boyfriend for our anniversary and he loved them! We are going to have a lot of fun using the coupons."
"I made this for my husband for our anniversary. He thought they were great and wants to redeem the "Get out of the doghouse free" card more than once....lol. He only gets once! :) They were cute. They were fun. They were original and he loved that the pictures looked like us."
"He loves it. Thought it was very cute. A great gift for our traditional paper anniversary :-) "
"I created a love coupon book for my husband for our first year anniversary and he loved them!! He is hard to get gifts for but he was thrilled with these! The coupons were really cute and looked fabulous with really good quality printing I felt good about giving them too!"
"The coupon book is absolutely adorable and was so much fun to make. My husband loved it as part of his first anniversary gift!!! What a fantastic idea!!"
"This was such a fun experience, having the ability to customize to your likeness and so many coupon types to choose from. I will definitely use this site again. My husband absolutely loved this when I gave it to him as part of an Anniversary gift!"
"Love Coups are absolutely great. i bought them for my fiance for one of his anniversary gifts and he absolutely loves them. He is taking full advantage of all his coupons. I would definitely recommend Love Coups to my friends."
"Instead of making it as a "coupon", I edited the texts in every page to make it like a letter. My partner was teary-eyed as he turned the pages one by one. He was so happy; this was the perfect gift for our anniversary! As for my assessment on the product itself, nice paper and print quality. There's also a lot of coupons to choose from, and I really like that I can edit the characters, they really looked like me and my partner. The delivery was very fast, and the team assisted me on my inquiries. Thanks LoveCoups! :)"
"My husband loved these. It was used for our first anniversary as paper is the tradition. He was so amazed and thankful and laughed at our characters I created. I will be doing this again!!! I absolutely love this So glad I found this site! "
"I gave this to my boyfriend for our anniversary and he loved it!"
"I designed the coupon book for my boyfriend for our 4 year dating anniversary and he loved it! He intently read through each of the pages and thought it was really cute. I love how I could customize the whole coupon book and I will definitely tell my sister and friends about it to do for their boyfriends/husbands. Of course I'll definitely be coming back to make more coupon books in the future as soon as my boyfriend uses up his current one! :)"
"I gave this to my husband for our 1 year anniversary since the tradition is paper. It was delivered much earlier than expected which was perfect. My husband loved it and thought it was so creative. These coupons give you the chance to spice up your relationship a bit and have fun together. "
"The coupon book is so cute in person. I have had several people ask where I got & the site where to order one for their significant other. I can't wait to give it t my husband on our 1st wedding anniversary!!!"
"This Gift was Truly Amazing! I purchased this LoveCoup for my 1 Year Anniversary with my Boyfriend and I must say it was Awesome! My Boyfriend Loved every bit of it, especially since it the drawings were so personal and brought our relationship to life in an entirely new and fun way. He could not get over how Awesome he thought the gift was. It was even more special as our Relationship is Long Distance. This brought out my creativity side and truly personalized my gift in ways many typical anniversary gifts don't do. I will be purchasing one for myself soon and will definitely be using this to create more gifts in the future and for other loved ones as well. Thank you, Thank you, Thank you!!!!!!!!!!!!!!!!!!!! <3 <3 <3 "
"I made a coupon book for my husband for our first anniversary. He thought it was very fun and cute. The process was simple and easy, and I would use LoveCoups again."
"I received my coupons a couple of weeks ago and I couldn't be anymore happy with them. Great printing quality and the characters were spot on as out look alike- great anniversary present!"