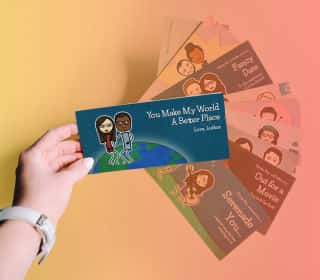 Share an Experience
Create fun & romantic love coupons. Personalize each page with ease.
SAVE 10% - use promo code: SAVE10
Personalized coupons in minutes
3 super simple steps:
01. Personalize your characters
02. Select your cover
03. Pick your pages & customize them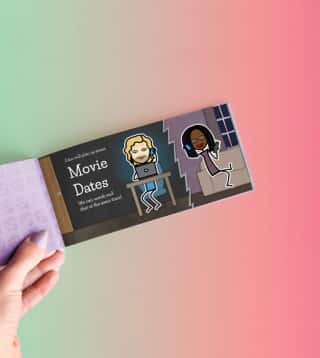 Spend more time together
Fully customizable characters
Hundreds of coupons to choose from
Editable to perfectly fit your relationship
A gift made with love
20 high gloss, full color pages
7.25 in. x 3.25 in. finished print size
Perforated pages for easy removal
20 Personalized Coupons
20 Experiences to Share
01 Reason: Love
SAVE 10% - use promo code: SAVE10
"My boyfriend loved it. Giving coupons is not a new gift idea but you guys, LoveCoups, make it a PERFECT gift. Fun and affordable. The fact that the characters look like us - which my boyfriend noticed right away - made it special. We are in a long distance relationship so it was great to be able to send him something on his special day. He looks forward to redeeming the coupons when we see each other after 7 weeks apart! "
"I loved it! I sent it to my long distance boyfriend (along with some cookies) and he loved it too!"
"Great service! She loved the coupons! :) We're currently in a long distance relationship but planing to move closer in the summer so this is a great way of looking forward to all we'll do together!"
"My long distance boyfriend absolutely loved it! Each time he uses a coupon, we take a picture and we collect the both in our long distance journal for memories."
"This is such an amazing site. Perfect for long distance couples. My gift got there just in time for his birthday. Thanks LoveCoups, will definitely use you again! "
"I am in a long distance relationship and being able to send things like this really help bring the romance to our relationship. It builds anticipation for whenever we plan to meet, plus the long distance coupons work wonders as well as they help to keep things going even when we are far away. The options are endless and as soon as we are through this one (maybe even halfway through as I'm sure there will be some favorites I need to put in a new one) I will be making and purchasing another one. "
"My girlfriend loved these, especially the long distance relationship coupons!"
"This Gift was Truly Amazing! I purchased this LoveCoup for my 1 Year Anniversary with my Boyfriend and I must say it was Awesome! My Boyfriend Loved every bit of it, especially since it the drawings were so personal and brought our relationship to life in an entirely new and fun way. He could not get over how Awesome he thought the gift was. It was even more special as our Relationship is Long Distance. This brought out my creativity side and truly personalized my gift in ways many typical anniversary gifts don't do. I will be purchasing one for myself soon and will definitely be using this to create more gifts in the future and for other loved ones as well. Thank you, Thank you, Thank you!!!!!!!!!!!!!!!!!!!! <3 <3 <3 "
"What a fantastic idea! My girlfriend literally swooned! She's redeemed one coupon, but is taking her time with the rest - it spices things up and reminds her of how much I love her, even when we can't be together all the time (long distance). Thanks LoveCoups!"
"This was such a fun to gift to both create & give! I enjoyed making our characters & then filtering through the various page options to find just the right pages for my book. I would suggest this to anyone in any kind of relationship, My boy is in the Navy & we are in a long distance relationship (I really appreciate the ldr pages). I will be sending him this book for our anniversary & he is just going to flip! Thanks for all of this, it is things like these that help keep love alive & fun!"
"I absolutely loved the coupons! It's a surprise for my boyfriend and I know he's going to love them as much as I do! "
"Wow ....my fiance LOVED the coupons. Some were practical, some were things we used to love to do, and would give us a reason to respark memories, some were funny, some were inside jokes, and some were naughty. And, she loved them all. in fact, she used one the first weekend she had them. Thank you. I'll be back."
"My wife absolutely love her gift! She thought it was adorable, funny, and she can't wait to use them. Thank you!"
"Knowing him I wasn't 100% sure how he would react. Was he going to like It? Was he going to hate it. As it got closer to the delivery date I knew he was going to hate it. But the minute he got it he called me and said he loved it! He said that it was very special to him and he loved that it was personally made for him! I was so happy!"
"My boyfriend loved the coupons and the fact that they were tailored to our activities as a couple. He was like a kid in a candy store as he read through each of the coupons. He loved the animated characters of us and thought it was just amazing. "
"My boyfriend absolutely loved it! And so did everyone we showed. Such a cute idea!"
"I had so much fun making this coupon book. I showed it to my friends and they loved it. One friend already ordered one. I am waiting for them to be redeemed."
"What an amazing product and thought for these coupons for your girlfriend, wife, etc. I gave one to my girlfriend and she loved it a lot, thought it was the cutest thing ever. "
"It was great...my husband love the idea and coupons.. it provides the best service.. thanks again loveCoups... Very much recommend :)"
"It was great... My husband love the idea and coupons to the core ... It has the best service.. thanks again loveCoups"
"I actuallygive this to my boyfriend on Valentine....his face was priceless seeing him go through this coupon book"
"I give this to my boyfriend and he really was happy to have one of this coupon book. I will actually buy another one."
"These are amazing!! Make such a lovely present and put a smile on my boyfriends face - thank you so much!!"
"A Valentine's Day to remember! This was a great idea and well received. Thank You!"