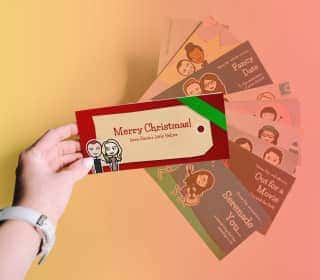 Share an Experience
Create fun & romantic love coupons. Personalize each page with ease.
SAVE 10% - use promo code: BEMINE19
Personalized coupons in minutes
3 super simple steps:
01. Personalize your characters
02. Select your cover
03. Pick your pages & customize them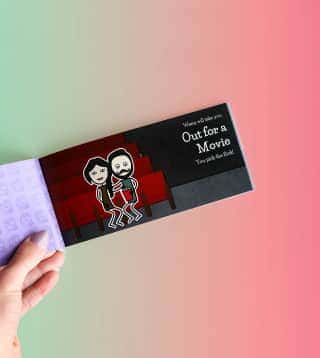 Spend more time together
Fully customizable characters
Hundreds of coupons to choose from
Editable to perfectly fit your relationship
A gift made with love
20 high gloss, full color pages
7.25 in. x 3.25 in. finished print size
Perforated pages for easy removal
20 Personalized Coupons
20 Experiences to Share
01 Reason: Love
SAVE 10% - use promo code: BEMINE19
"I gave the coupon book as a Christmas gift to my boyfriend and he loved it! It was the best gift I could give him. I was kind of anxious that it took so long to get here, but it arrived just in time for Christmas day! "
"They turned out great!!!!!! My boyfriend loved them, and really liked how personal they were. A great touch to go with the other Christmas gifts. "
"I gave the LoveCoups to my boyfriend as a part of his Christmas gift and he LOVED THEM!! I was so pleased with the process and how well everything looked! It was exactly what it looked like online and I will definitely be using them again in the future!"
"This was my bfs favorite favorite gift this Christmas. I loved being able to personalize every part of the coupon."
"I made this book for my wife as a Christmas gift and she was blown away by the thoughtfulness and customization of it all. She couldn't believe I made such a detailed book that was so personalized to our lives and our silly slang. Needless to say, it was a huge hit and I bet she'll soon return the favor with a book for me!"
"They turned out great! Loved them so much that I will probably make my kids each one for their stockings this Christmas!"
"Used it as a gift for Christmas and couldn't be happier with the outcome."
"I was thinking of something cute to add to the gifts that I got for my boyfriend for Christmas and happened upon this site. The process of making the book was actually fun and enjoyable! My boyfriend loved his coupon book and can't wait to use it, he even said he's going to make me one!"
"My boyfriend and I decided to exchange Christmas gifts until I returned from a trip to New York on December 28th and I asked him to open the smallest package first which were the Love Coups...at first glance he smiled and looked at me and said what is this? I said open it, so he began to read and look at each picture on each coupon. The more he turned, the more tears rolled down his face and by the time we got to the end of the book... he had tears rolling down his face and he was laughing at the same time. He was speechless! He gave me a huge hug and kiss and said it was the most unique and special gift that he'd ever been given and he couldn't wait to use it. Thank you so much... this was really a special gift and I enjoyed making it for him. <3"
"I have my boyfriend a LoveCoups book for Christmas and he absolutely loved it. He opened it and was sirprised to see that I added in some of the activities that I usually say I won't do. I'm waiting for him to use one, but he absolutely loves it and it came out absolutely beautiful."
"He loved it! It was a great Christmas gift leading into us getting married soon. He refuses to rip them, make a mark to say that we used it, or let anyone touch it. I was surprised that the quality was so good and it was money spent well! Definitely for those who just don't know what to get; it's a personal gift made from the heart"
"I gave my boyfriend these coupons as a Christmas present and he loved them! I would definitely recommend them and will be buying more in the future. "
"The coupon book was a big hit with my wife. It made for a great stocking stuffer. We both had some good laughs on a few of the more "adult" coupons.. The delivery was right on time for Christmas! "
"My boyfriend loved the coupon book. He thought it was hilarious and we had a good laugh from it. Definitely glad I got him this as a Christmas gift...great stocking stuffer! The platform was easy to use and edit. Also had so many options it was easy to personalize. "
"I had fun customizing my book! I liked that there were pre-made coupons to choose from, but that I could still change the wording if I wish. The coupons haven't been used yet but my sweetheart will love them when he sees them Christmas morning. Thank you so much! "
"I have not given it to my partner yet as it is a christmas present. However I was very pleased with my purchase! Great quality and fast international delivery! I would definitely consider buying more products from the same company! So glad I found this website - all my googling definitely paid off! Thank you very much."
"I loved it! I can't wait to give it to my husband for Christmas! "
"Love the coupons! Can't wait to give them as a Christmas gift for hubbie."
"Very pleased with this purchase. The quality of the product is impressive. It was purchased as a Christmas gift and I am excited to see what the recipient thinks. I highly recommend making purchases from this company."
"I bought a coupon book for my husband as a stocking stuffer. We were on a pretty tight budget this year, so it was one of about four presents he got this year - a machete and a high-powered flashlight (both of which he specifically requested) and some candy. The coupon book was definitely his favorite. He got a pretty big kick out of the personalization. Thanks for helping me make is Christmas great!!"
"My husband asked for a coupon book for Christmas. I think he was expecting a pad of paper, he was absolutely thrilled with this from the images to the coupons. A definite new tradition for us! He can't wait till he gets his next one...here is hoping i get one to use myself!"
"It went great! As a Christmas present, I gave a coupon book to my boyfriend of four years. He cried when he read the last one, 'let's fall in love again'! Thank you for the wonderful thing you've done in making these books!"
"I received my book in good timing and was able to give it to my boyfriend for Christmas. He absolutely loved them. Great product. Will be back in the future!"
"He absolutely loved them. They were his favorite Christmas gift! He was in awe at how much the people looked like us. "
"It went great ! It was a Christmas gift for my boyfriend and he loved it ! We are having so much fun using them :) Thank you "